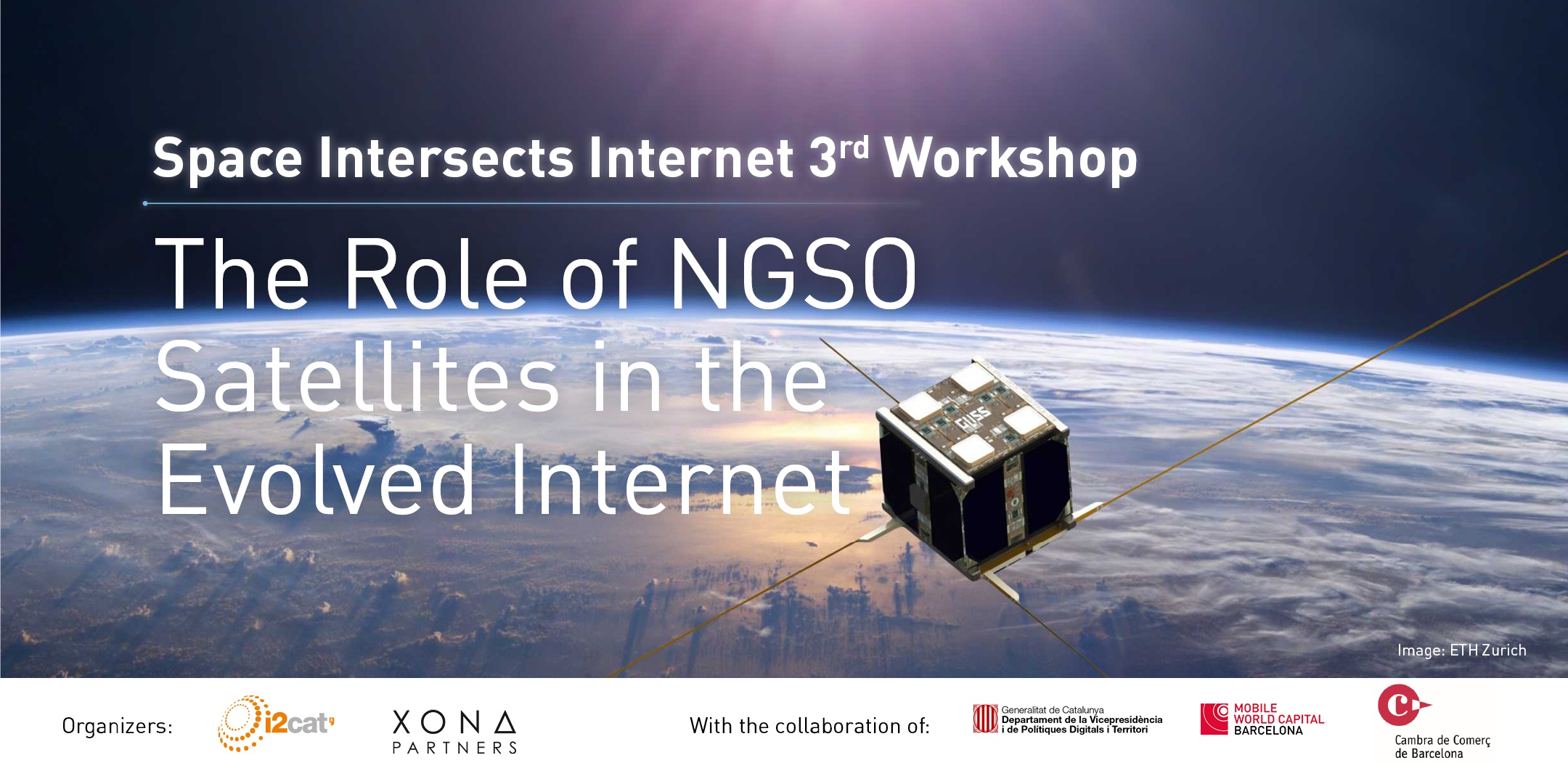 Space Intersects Internet 3rd Workshop: The Role of NGSO Satellites in the Evolved Internet
18 November 2021 - 16:00

//

18:00

Non-geostationary orbit (NGSO) satellites are emerging as a cornerstone in the evolution of the Internet that aims for ubiquitous global connectivity of people and things. NGSO satellites come in a variety of types to enable a range of applications that include traditional ones such as fixed, mobile and backhaul services to more advanced applications such as sensor connectivity and quantum key distribution. In this third workshop in the series focused on the evolution of NGSO satellites, we address the applications and financial feasibility of LEO satellites and debate the technology, market, and investment drivers.

Main topics of discussion:
Discuss emerging applications that include direct-to-device cellular service and IoT connectivity

Uncover the challenges they face and innovation they are in the process of commercializing

Address the different market opportunities for the nascent LEO satellite ventures and their ability to develop a positive business case

Review the investment landscape and investor appetite for the LEO satellite constellation and services
The workshop consists of two panels: the first panel covers technology innovations and use cases, while the second panel addresses financial viability and investment trends.
Previous workshops: 
For additional information on the series, please see the recording from our 1st workshop and 2nd workshop
Workshop Participants:
Representation from LEO/GEO satellite service providers, network operators, space agencies, LEO satellite and space technology startups, investors, and law firms. Technical, business, and investment professionals from over 25 countries.
Workshop Agenda: (Format – Moderated discussion panels)
All times are in CET (EST+6 hrs; PST+9 hrs)
16:00 – 16:05 Rationale and goals of the workshop, Sergi Figuerola, PhD, CTIO, i2CAT Foundation
16:05 – 16:15 Where are we on LEO, Riad Hartani, PhD, Internet Technologist, Xona Partners
16:15 – 17:00 – Panel 1: The Role of LEO Satellites in the Evolved-Internet: Direct Satellite to Handset Market Opportunity
The role of LEO satellites in achieving ubiquitous cellular connectivity

The challenges in integrating LEO satellite integration with terrestrial cellular networks: standards, spectrum, use cases

Addressing the varying regional market requirements for connectivity: bridging the urban-rural divide and connecting hard-to-reach areas
Moderator: Frank Rayal, Partner, Xona Partners
Panelists:
Tyghe Speidel, CTO and Co-founder, Lynk

Maria Kalama, Business Development Director, Lacuna Space

Mina Mitry, CEO, Kepler Communications

Stephane Anjuere, 5G Venture Lead, Thales Alenia Space
17:00 – 17:45 – Panel 2: How can LEO satellite constellations achieve a positive business case
What are the critical impediments facing LEO satellite constellations and how to mitigate them

What is the impact of new technology and business model innovations on the LEO satellite business case

How to achieve lower user terminal costs and generate revenue quickly

What is the impact of ground stations and regulatory requirements on the LEO satellite market
Moderator: Ms. Mònica Roca, President of the Barcelona Chamber of Commerce
Panelists:
 Jordi Barrera Ars, VP of Technology, Open Cosmos

Jaume Sanpera, CEO, Sateliot

Daniel Marco, Director General of Innovation and Digital Economy, Government of Catalonia

Thomas S. Jensen, Senior Vice President, Satellite Communication of GateHouse SatCom

Paul Febvre, CTO, Catapult Satellite Applications
17:45 – 18:00 – Closing notes