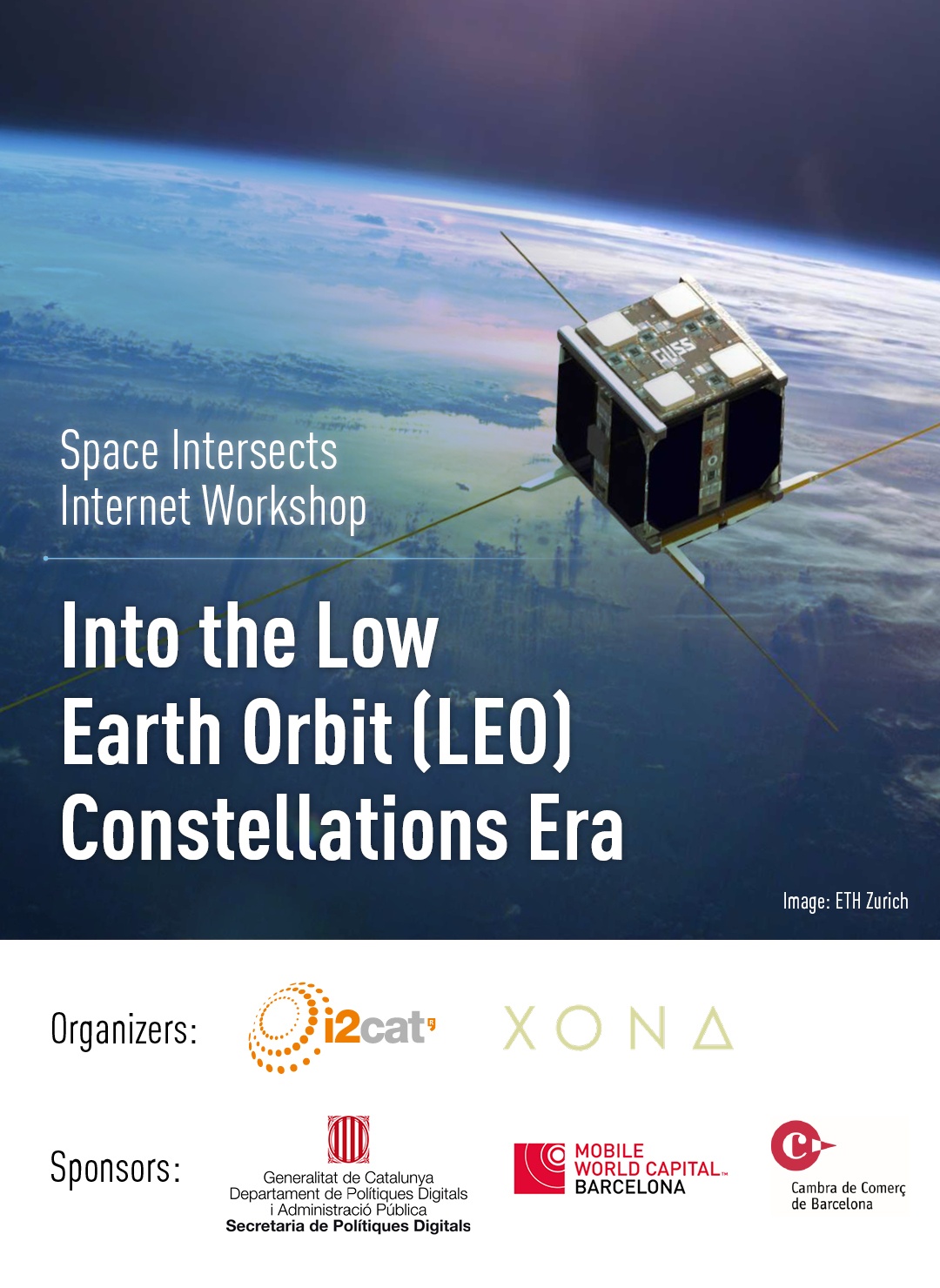 Space Intersects Internet Workshop: Into the Low Earth Orbit (LEO) Constellations Era
27 February 2020 - 15:00

//

18:45
---
Location (onsite and online):
– Onsite location: Casa Llotja – Barcelona, Passeig d'Isabel II, 1, 08003 Barcelona
– Online presence with engagement platform Zoom, provided upon registration –> We reached the maximum number of online participants. Any further registrations for online attendance will be waitlisted.
Register here: https://forms.gle/zfJBUTfQ4XiKnR949
Date:  Thursday 27th, February 2020 from 15h – 18:45h (CET) (9am -12:45 pm EST/6am-9:45am PST)
---
VIRTUAL Workshop Outline
As we enter the 2020s, space and internet technologies are converging. We find ourselves at the dawn of a space Internet race. Technology giants like SpaceX, Softbank, Amazon, Google, Virgin, and Facebook will spend tens of billions of dollars over the next few years to launch, operate, and replace thousands of satellites in LEO. Well-capitalized and visionary entrepreneurs are shaking up the satellite industry with new LEO constellations offering terabytes of capacity at a fraction of the cost of previous satellite networks. The stakes are high not only for incumbent satellite operators, but also for the broader Internet ecosystem including terrestrial and submarine network operators, wholesalers, and data centers owners.
This Space Internet workshop will feature expert insights and debate by ecosystem players on the potential opportunities and threats this space race presents. Experts will share insights gained from hands-on experience in LEO deployments and panelists will debate technology and investment drivers including demand-side economics, research, regulations, and the potential interplay with 5G. Participants will leave the workshop equipped with the knowledge and perspectives needed to begin mapping out strategies to thrive in this new environment.
Main Topics of Discussion:
– Review of Space Internet (LEO focus) technologies and LEO state of the art
– Key players, business drivers, research, investment, go-to-market strategies, and start up landscape
– Competitive threats and partnership opportunities: Telecom operators, Submarine, Data Centers
– LEO investments dynamics, space law considerations and demand side overview
Organizers:
Dr. Riad Hartani, Partner, Xona Partners, riad@xonapartners.com
Dr. Sergi Figuerola, CTIO i2CAT, sergi.figuerola@i2cat.net
Workshop Participants
Representation from LEO R&D teams, LEO constellation representatives, Space Agencies, LEO startups, TMT investors and law firms. Includes technology and business participants from Spain, France, US, Canada, UK, India, Japan, Korea, Russia, China and South Africa. Some speakers will participate remotely.
Workshop Agenda
(Format – 10 minute presentations followed by panel discussion)
15:00 Welcome Mr. Daniel Marco, General Director of Innovation and Digital Economy, Catalan Government
15:05 – 15:10 Rationale and goals of the workshop, Dr. Sergi Figuerola, CTIO i2CAT, CTO 5GBarcelona
15:10 – 15:30 Opening keynote: Dr. Riad Hartani, Xona Partners
15:30 – 16:15 – Where are we on LEO
✔ Ongoing initiatives globally and state of the art LEO constellations in review
✔ LEO business models/ market segments and market approach: 5G, IoT, backhaul, wholesale, retail, GEO
Speakers:
1. "Nano/SmallSats: Current Trends in Scientific & Communications Missions". Prof. Adriano Camps, CommSensLab-UPC and IEEC/CTE-UPC
2. "5G/IoT for Satellite in 3GPPP" Prof. Ramon Ferrus UPC with collaboration of Sateliot
3. "LEO Network architecture Challenges", Dr. Vishal Sharma, Metanoia, Inc.
4. "Constellations and Space Missions", Rafel Jordà, Founder & CEO Open Cosmos
16:15 – 16:25 Coffee Break
16:25 – 17:15 – LEO technology and deployment challenges
✔ LEO technology challenges (network): connectivity ground/space, ISL, control plane for space segments, QoS, cybersecurity, orchestration end to end network, DC/Content/Connectivity on ground segment, terminals…)
✔ LEO technology challenges (satellites): chipsets, radios, systems and payload.
Speakers:
1. "Orchestration of Integrated LEO Satellite Components in 5G Networks and Beyond". Dr. Pouria Khodashenas, Senior Researcher & Innovation Strategy Manager, H2020 CARAMEL PI, i2CAT
2. "Internet of Satellites: Challenges and Opportunities". Joan Adrià Ruiz de Azúa, PhD Candidate. UPC and IEEC
3. "Open Challenges in Earth Observation" Dr. Juan Fernando Marchan, ICGC
4. "Flying Base Stations challenges", Dr. Ana I. Pérez-Neira, Scientific Coordinator, CTTC
17:15 – 18:05 – Getting into LEO large scale deployments: legal, funding and business considerations
✔ LEO end to end business models and funding models
✔ LEO regulatory aspects, legal aspects
Speakers:
1. "Regulation Challenges in LEO Constellations" Rafael Harillo, Law Firm Más y Calvet
2. "Space Law Challenges", Nick Roudev, Simmons & Simmons
3. "LEO Opportunities: Africa Demand side perspective", Dion Jerling, ConnectEarth
4. "Challenges Deploying 5G/IoT from Space", Jaume Sanpera, Sateliot CEO & Co-founder
5. "Space Internet and Venture Capital", Luke Maloney, Space Fund
18:05 – 18:15 – Key conclusions and next steps
18:15 – 18:40 – Mission design demo hands on workshop
✔ Mission design demo explanation with beeApp/beeKit, Aleix Megías – VP of Programmes, Open Cosmos
✔ Bring your laptop and design and simulate your own mission with beeApp, Daniel Sors – Head of Customer Success, Open Cosmos
For additional technical context, please check out:
http://www.xonapartners.com/wp-content/uploads/2019/05/Space-Intersects-Internet.pdf
---
Organized by i2CAT and Xona Partners
Sponsored by: Generalitat de Catalunya, the Mobile World Capital Barcelona and the Barcelona Chamber of Commerce