28/10/2021
The i2CAT Foundation returns to Smart City Expo World Congress on its 10th anniversary to join the urban revolution by transforming conferences and remote communication. Attendees will have the chance to see the center's HoloMIT solution first-hand, a 3D holoconferencing system based on the capture, transmission, and representation of volumetric video using Point Cloud.
The research center based in Barcelona will present a live demonstration that will take visitors into a virtual environment to interact in real-time and in 3D with a person located in i2CAT's Crea & Play Laboratory in Vilanova i la Geltrú, and another person located outdoors. During the demonstration, visitors will also get to know how HoloMIT works, its architecture, and its performance indicators.
In early 2021, i2CAT obtained a grant from Cisco Systems to work on the development of HoloMIT and unfold its potential. The US company highlighted the innovation of the proposal and the projection of the solution to facilitate the transmission and processing of cloud volumetric video, as well as its power to enable a new immersive experience in the remote communications field.
The sector of virtual and immersive technologies has grown exponentially in recent years, creating a very wide range of possibilities and opportunities in fields such as audiovisual production, entertainment, or Industry 4.0. The HoloMIT components used by i2CAT are available for licensing and have great potential for developing new applications in immersive environments.
The i2CAT Foundation and its HoloMIT demonstration are part of the Generalitat de Catalunya stand (Congress Square, D112), and the center will also have a space at the Parc Empresarial (D112 – booth 8), where visitors will get to know its wide expertise in innovative technologies and how to apply them to different use cases to solve business and social challenges.
Find all the information about i2CAT's participation in SCEWC here.
i2CAT joins SCEWC again to make better and more inclusive & sustainable cities! Discover HoloMIT and experience the virtual world without losing the essence of real contact!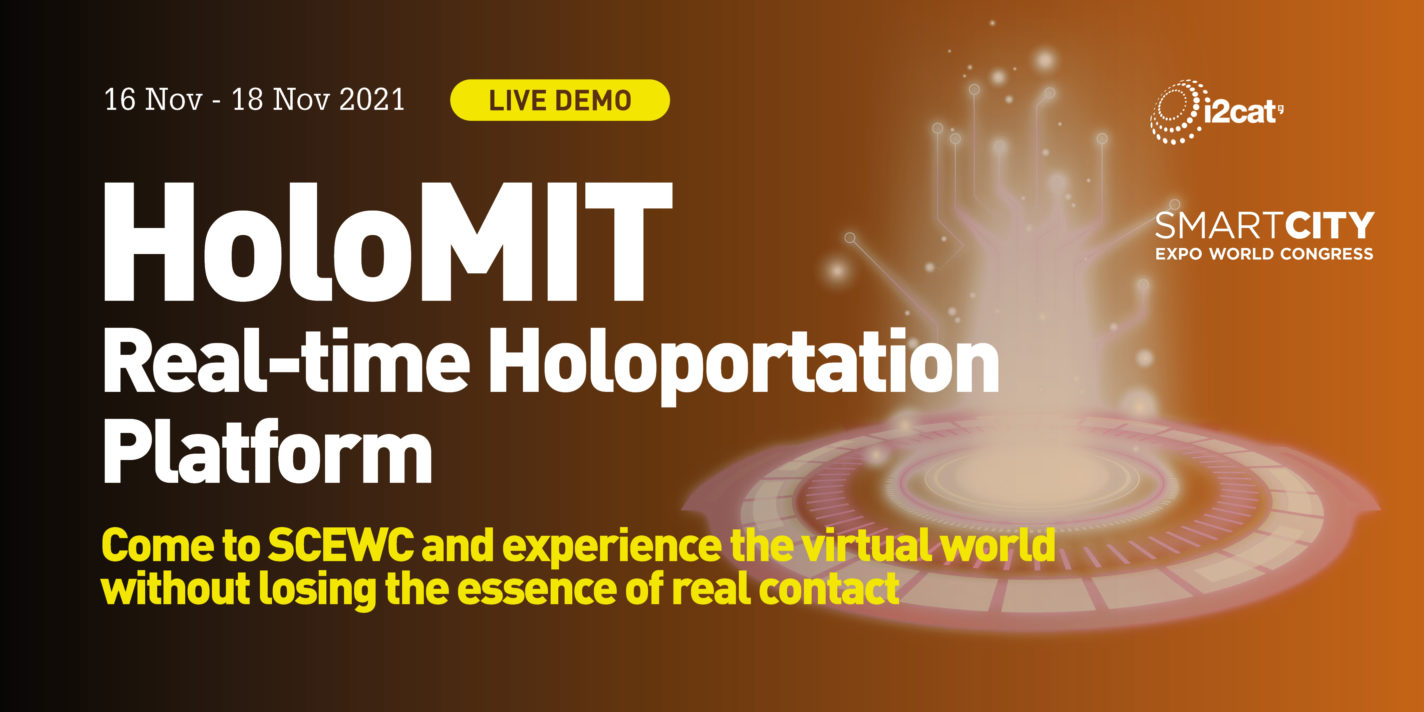 About HoloMIT
In HoloMIT, i2CAT works with Point Clouds rather than Mesh as a presentation format, thus unleashing greater detail potential from both capturing and viewing real objects. This format presents bigger management complexity in terms of computation and data volume while opening new horizons for innovation. For the demonstration of this year's edition, the center addresses the challenge of the 3D holoconference. This has additional requirements in terms of bandwidth and latency. By combining various components for capture, compression, multi-conferencing, and 3D rendering, i2CAT manages to reduce the computing, data load, bandwidth, and cost needs of an end-to-end solution.