27/01/2023
The i2CAT Foundation, a research and innovation CERCA centre focusing on advanced digital technologies, begins 2023 with the participation in 6 research projects that navigate the design and development of mobile communication networks based on advanced 5G and 6G technologies. The projects are part of the first call of the 6G Smart Networks and Services (SNS) Joint Undertaking (JU), the Horizon Europe-funded R&D European programme directed at designing facilitating technologies for the next generation of mobile networks.
The Catalan research centre will play a relevant role in developing advanced 5G and 6G technologies thanks to active participation in the four large research Streams that define the SNS programme.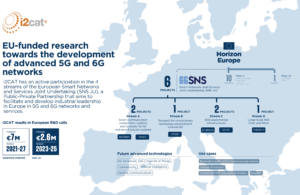 The BeGREEN project, which is part of Advanced 5G – Stream A, will work to substantially reduce the energy consumption of new mobile communication networks in order to make them more sustainable. The main challenge is to achieve it despite the incessant escalation in data traffic and the emergence of increasingly advanced services with ambitious performance demands for mobile communication networks. In turn, the NANCY project will focus on improving network security and privacy through the implementation of connectivity systems based on artificial intelligence and blockchain.
In Stream B, focused on the design of 6G technology, i2CAT participates in two projects. The ETHER project is aimed at guaranteeing 100% network coverage through an approach based on the integration of terrestrial and non-terrestrial networks thanks to the use of satellites to extend the coverage.
Stream C of the SNS program has the objective of building experimental platforms for 6G. Of the 3 projects financed by the European Commission, i2CAT participates in two: 6G-BRICKS and 6G-XR. The 6G-BRICKS project will work on the integration of emerging technologies into the 6G architecture by creating functional blocks, thus providing greater flexibility for networks and the ability to be configured dynamically according to needs. One of these disruptive technologies is the RIS (Reconfigurable Intelligent Surfaces), which will make it possible to integrate communication antennas into elements of everyday life, such as walls or street furniture. For its part, the 6G-XR project will enable new services in the field of extended reality, validating innovative 6G applications for holography, digital twins or the broadcasting of large events.
Finally, within Stream D, whose main objective is to complete 5G large-scale tests, i2CAT will participate in the TARGET-X project, which seeks to accelerate the digital transformation of key industries at a European level, such as energy, construction, automotive and manufacturing through large-scale trials and test benches to validate the current potential of 5G and the future 6G in real environments.
"Despite its enormous potential, we know that 5G technology will find certain limitations in responding to increasingly demanding applications. Furthermore, historically, we have needed approximately ten years to design and start deploying new generations of mobile communications. For this reason, we believe that this is the right time to intensify support policies for R&D programs in the field of 6G", explains Jesús Alonso-Zarate, PhD, director of Research and Innovation Strategy and Policy in Europe at i2CAT.
Consolidated experience in 5G development
Over the last 10 years, the i2CAT Foundation has built a solid experience in designing and validating 5G technology. Its knowledge and positioning in the international arena make the research centre a relevant player in the design of future mobile communication networks.
Particularly, i2CAT has participated in 17 projects of the European 5G Public Private Partnership (5GPPP), a joint initiative of the European Commission and the European ICT industry (manufacturers, telecommunications operators, service providers, SMEs and research institutions) aimed at the research, design and promotion of 5G technology within the scope of the H2020 program. Of these 17 projects, i2CAT has acted as a coordinator in three of them and as technical director in another three.
Additionally, i2CAT has a very relevant role in the UNICO R&D 6G programme, promoted by the Spanish Government within its Recovery, Transformation and Resilience Plan. The centre is carrying out a total of 19 research projects, grouped into six coordinated projects, with a budget of more than 16 million euros between 2022 and 2024. These projects, in collaboration with the private sector, will make it possible to consolidate and strengthen a solid ecosystem for the design and deployment of 6G in Spain.
i2CAT executes its research and innovation activities under a mission-oriented approach, promoting the deployment and commercial use of 5G networks through use cases and proofs of concept in real environments, whether rural or urban. For example, it plays a leading role in the Àrees 5G initiative, promoted by the Government of Catalonia to enhance existing services throughout the region. Likewise, it is one of the founding members of 5G Barcelona, a public-private alliance that aims to position the Catalan capital as an innovative and open environment for the validation and adoption of 5G technologies and applications in a real-life environment.
"All these efforts must be framed within public-private collaborations and endowed with resources to establish as a knowledge-generating society, where digital technological sovereignty will be increasingly important as a differentiating and positioning element in the geopolitical and geotechnological context that will be increasingly competitive", says Sergi Figuerola-Fernández, PhD, Chief Technology and Innovation Officer of i2CAT.