26/11/2020
The center will take part in two side events on December 2nd
The IoT Solutions World Congress, organized by Fira de Barcelona and the Internet Consortium (IIC), holds a Digital Summit on the 2nd and 3rd of December.
The IOTSWC Digital Summit aims to boost and spread the latest tech advances. For two days, there will be online conferences and discussions focused on the evolution of Digital Twin and AI, and their applicability to multiple sectors including manufacturing, construction, transportation, smart buildings, healthcare, energy, and the military.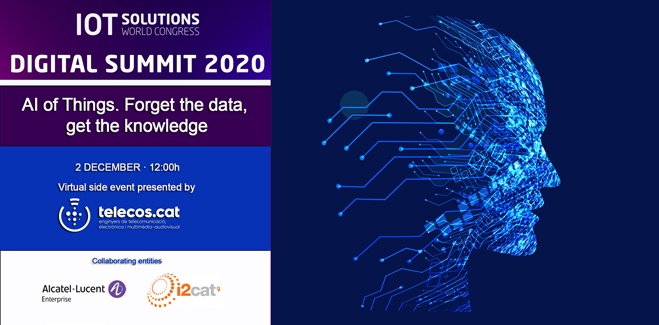 The director of the i2CAT Foundation, Josep Paradells, will participate on December 2nd at 12PM on the side event "AI of Things. Forget the data, get the knowledge", which is organized by the Catalan Association of Telecommunication Engineers (Telecos.cat). The panel aims to offer a meeting space for engineering professionals who are interested or linked to the world of Internet of Things and Artificial Intelligence. The speakers will tackle practical examples of how AI is used as a key tool to interpret gestural communication and sound recognition.  Attendees will discover real IoT solutions in which AI has been a key component. Finally, a complete solution on how communications networks can be optimized in terms of data flows, adapting them to the different profiles of users, will be presented. 
The IoT Catalan Alliance will also hold a panel discussion on the 2nd of December, starting at 6PM. It will delve into the impact of the Internet of Things and Artificial Intelligence on agriculture. The Catalan companies MCSystems, E-Stratos, and Atlantis IT will participate, explaining digitalization in projects of the primary sector. By registering for this session, the assistants will get to know use cases featuring sensors and connected devices in agriculture. Jordi Daura, project manager of the IoT Catalan Alliance, will conduct the session, where the speakers will expose their professional experiences in remote sensing, tracking of reservoir status and irrigation systems, and security in food tracking. During the panel, experts will also discuss the capacities of AI and IoT, as well as other enabling technologies, to empower the agricultural sector in an increasingly connected future.
Don't miss out! Learn more about AI and Digital Twin by registering here!