23/02/2022
For this first edition, celebrated on February 10th, key 5G and future 6G stakeholders sat together to discuss 6G from a European perspective, featuring distinguished and knowledgeable speakers that represented the voice of policymakers, program leaders, industry representatives, users, and critical academic players. ECO6G combined on-site and online elements in an open broadcast.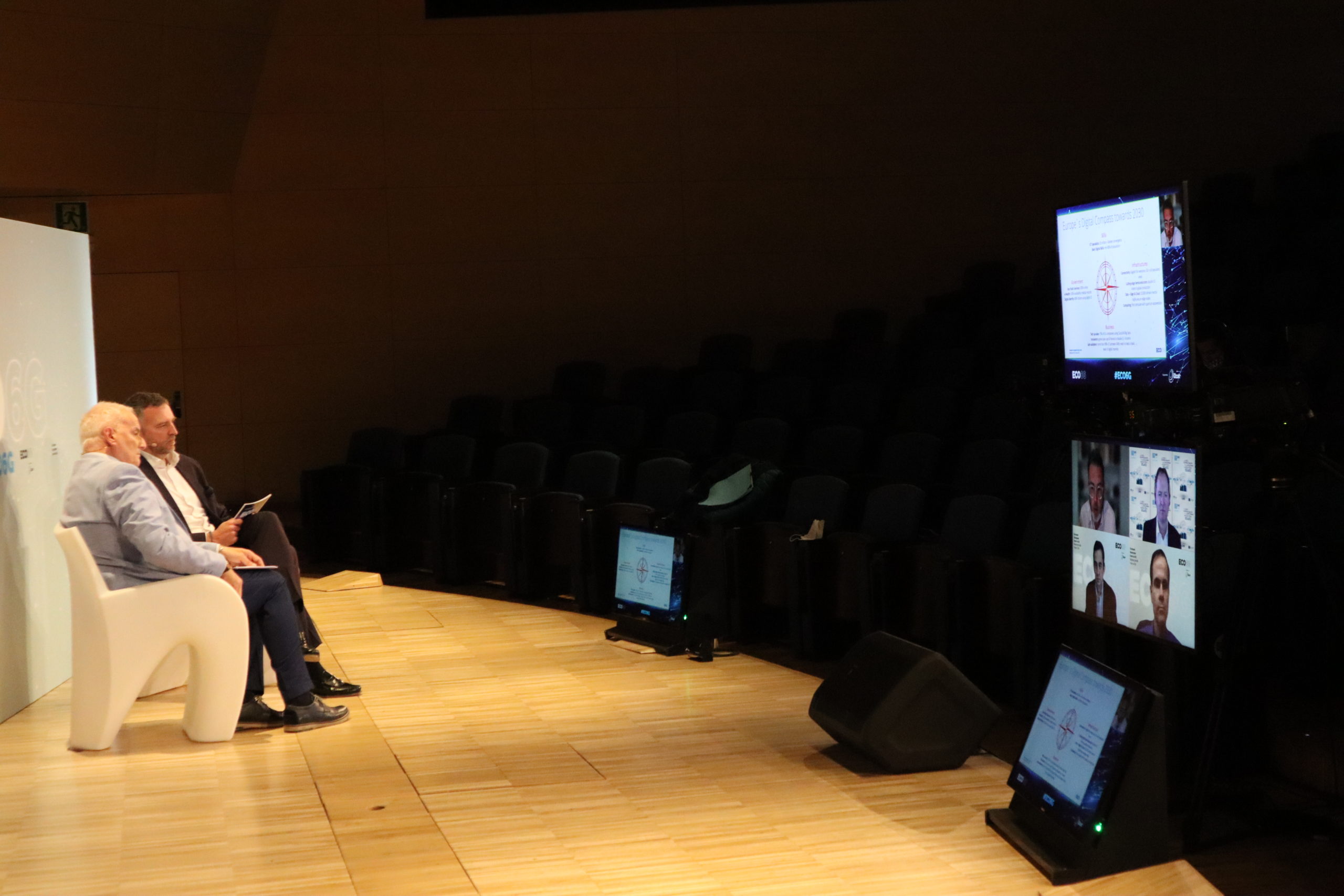 The event was divided into six sessions focused on diverse topics related to 6G technology:
European Vision, with main focus on the European SNS JU.
European Initiatives.
6G: What users need.
6G Community: a researcher's perspective.
The operator's perspective on 6G.
The provider's perspective on 6G.
It was presented and conducted by Andrea M. Michelozzi, Comunicare Digitale's President since 2003 and a TV journalist with an international career. The Chief Technology and Innovation Officer of i2CAT, Sergi Figuerola, and the director of the center, Josep Paradells, opened the day with an introduction of the R&D activities performed, followed by an institutional presentation by the Vice president and Minister of Digital Policies and Public Administration of the Government of Catalonia & Chair of the i2CAT Foundation, regarding 6G and i2CAT's role in the Catalan Ecosystem.
The sessions started with Dani Camps, the Mobile Wireless Internet Area Director at i2CAT, who explained the center's 6G Vision, aligned with the recently published 6G White Paper that contains its research perspective. The first session was a collection of 6G Visions around Europe, with Peter Stuckmann (European Commission, Head of Unit and Deputy Director), Dr. Colin Willcock (6G-IA, Chairman of the Board), Federico Ruiz (Mobile World Capital Barcelona, Head of the 5G National Observatory), Mikko A. Uusitalo (Nokia Bell Labs and Hexa-X project, Head of a Research Department and Hexa-X). Session 2 focused on European Initiatives, moderated by Jesus Alonso-Zarate, 6G Programme Director in the EC R&I Policy and Strategy area at i2CAT, with speakers like Dr. Andreas Mueller (General Chair of 5G-ACIA/Bosch), Nancy Alonistioti (Chairwoman of One6G Initiative and Associate Professor at Kapodistrian University of Athens), Jan Ellsberger (Member CCAM Association Governing Board, Physical & Digital Infrastructure and Vice President Industry Development at Huawei Technologies), Maria Guta (5G SatCom Systems Architect at ESA – European Space Agency). The last session of the morning was conducted by Shuaib Siddiqui, the director of the Software Networks Area of i2CAT, and it was centered on What users need regarding the 6G technologies. This discussion counted on the presence of Antonio M. Lacy, Chief of Gastrointestinal Surgery Department at Hospital Clinic Barcelona and President of AIS Channel, M. Carmen Fernández, Innovation and New Business Manager of MEDIAPRO Group, Dr. Frank Hofmann, Chief Expert at Bosch, and Maxime Flament, CTO of 5GAA.
After pausing for lunch, the afternoon sessions were opened by the "6G Community" round table, moderated by the AI-Driven Systems area director at i2CAT, accompanied by Mauro R. Boldi, Project Manager of Telecom Italia/TIM, Rui Luis Aguiar, Steering Board Chair (IT/Networld Europe), Dimitra Simeonidou, Co-Director of the Bristol Digital Futures Institute and the Director of Smart Internet Lab AT 6G Futures, Gustav Wikström, Research Leader on Ericsson Research and Ari Pouttu (Professor in Centre for Wireless Communications CWC). The last two sessions were centered on 6G Trends, being the first one about an Operator's Perspective and the last one revolving around the Provider's Perspective. Oriol Sallent Roig, UPC's Full Professor, moderated the 1st round table, and David Noguer Bau, Strategic Alliances Marketing Director at Juniper Networks, moderated the 2nd. The speakers for the first discussion were Jose Antonio Aranda, Cellnex Telecom's Global Innovation Director, VP of Ambient Connectivity Research at Orange; David Lister, Senior R&D Manager at Futurist at Vodafone Group; and Diego Perino, Director of Telefonica Research. The last conference, driven by David Noguer Bau, Strategic Alliances Marketing Director at Juniper Networks, had Mischa Dohler, Chief Architect at Ericsson Inc, Josep Martrat, Head of Telecom, Media and Edge Technologies at Atos Research and Innovation; Dr. Juergen Quittek, Managing Director of NEC Laboratories Europe, Markus Dillinger, R&D director for 5G vertical industries at Huawei Technologies Duesseldorf GmbH, Germany and Dr. Volker Ziegler, Senior Technology Advisor, Chief Architect Strategy and Technology in Nokia.
As a closure, Sergi Figuerola and Andrea M. Michelozzi chatted about the importance of the event and how the i2CAT Foundation can contribute to building 6G in Catalonia. The final speech was held by Dani Marco, Director General of Innovation and Digital Economy on the Government of Catalonia.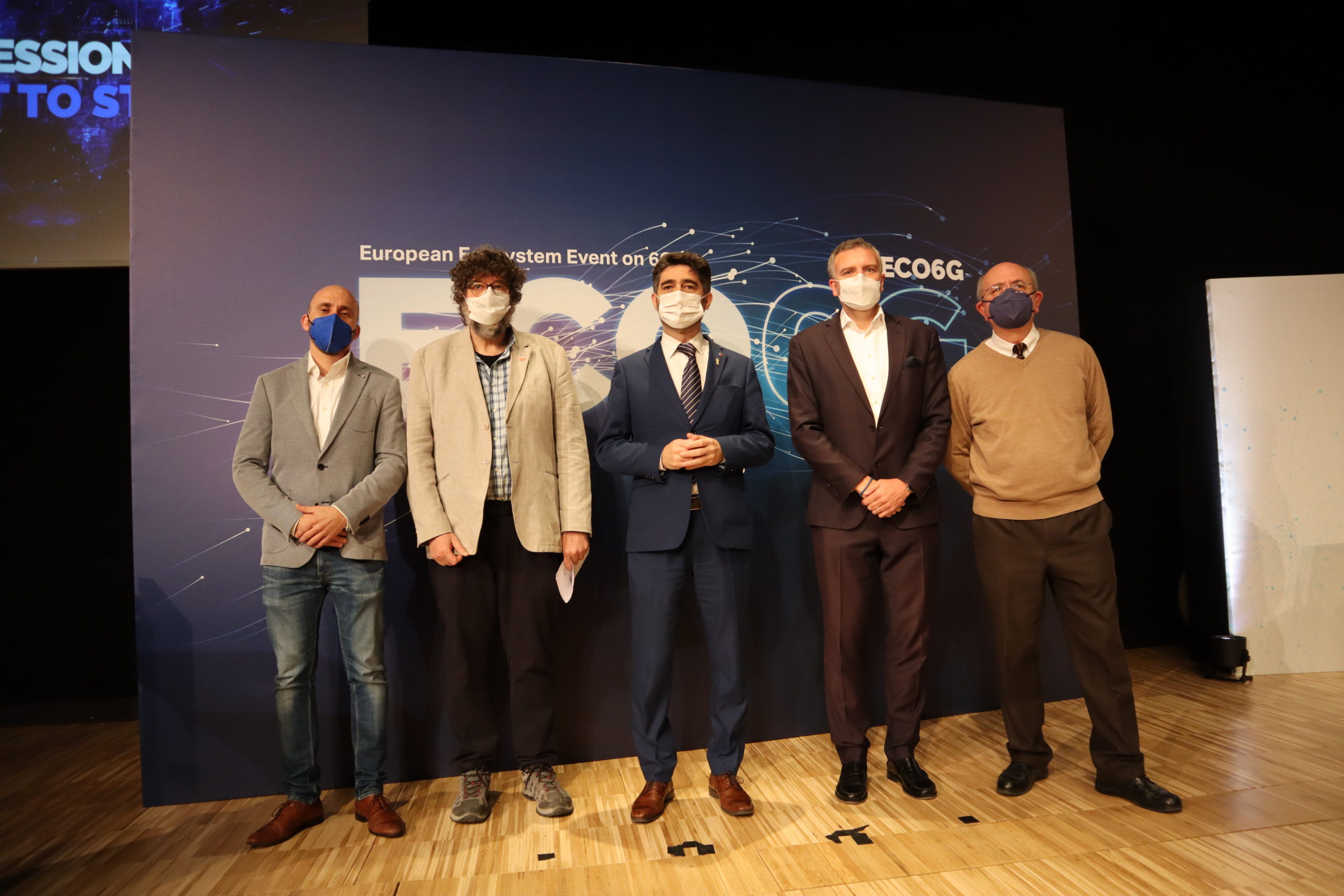 The communications industry has set the ambitious goal to deliver 6G networks by 2030. 6G is expected to be a fundamental enabling technology that will help realize the United Nations Sustainable Development Goals (UN SDGs) and the twin green and digital transition envisioned by the European Commission. As a research and innovation technology center focused on digital technologies, i2CAT is determined to contribute to building 6G. Motivated by this context, i2CAT prepared a White Paper, introducing i2CAT's view on the future 6G system and highlighting the pivotal technical areas where i2CAT will focus its 6G R&D efforts in the upcoming years. You can download the paper here.
ECO6G returns on 2023!
In this video playlist, you can find the teasers released previous to the event.