10/11/2021
The event will feature expert insights and debate by ecosystem players on potential opportunities and competitive threats
After the first and second editions of the 'Space Intersects Internet Workshop', celebrated last year, the i2CAT Foundation and XONA Partners continue delving into the possibilities of New Space with a third session devoted to the role of NGSO satellites in the evolved internet. The workshop, consisting of panel discussions by worldwide experts, will take place online on November 18th at 4 PM CET.
Non-geostationary orbit (NGSO) satellites are emerging as a cornerstone in the evolution of the hyper-Internet that aims for ubiquitous global connectivity of people and things. NGSO satellites come in various types to enable a range of applications that include traditional ones such as fixed, mobile and backhaul services to more advanced applications such as sensor connectivity and quantum key distribution. In this 3rd workshop of the series focused on the evolution of NGSO satellites, organizers will address LEO satellites' applications and financial feasibility and debate the technology, market, and investment drivers.
At the session, the panelists will discuss:
Emerging applications that include direct-to-device cellular service, IoT connectivity, and quantum key distribution
Uncover the challenges they face and innovation they are in the process of commercializing
Address the different market opportunities for the nascent LEO satellite ventures and their ability to develop a positive business case
Review the investment landscape and investor appetite for the LEO satellite constellation and services
The workshop consists of two panels: the first panel covers technology innovations and use cases, while the second panel addresses financial viability and investment trends.
The agenda will consist of two panels in a discussion format with a previous introduction:
16:00 – 16:05 – Rationale and goals of the workshop
Sergi Figuerola, PhD, CTIO, i2CAT Foundation
16:05 – 16:15 – Where are we on LEO
Riad Hartani, Ph.D., Internet Technologist, Xona Partners
Xona Partners (Xona) is a boutique advisory services firm specialized in technology, media, and telecommunications. Xona was founded in 2012 by a team of seasoned technologists and startup founders, managing directors in global ventures, and investment advisors. Drawing on its founders' cross-functional expertise, Xona offers a unique multidisciplinary integrative technology and investment advisory service to private equity and venture funds, technology corporations, as well as regulators, and public sector organizations. We help our clients in pre-investment due diligence, post-investment lifecycle management, and strategic technology management to develop new sources of revenue.
16:15 – 17:00 – Panel 1: The Role of LEO Satellites in the Evolved-Internet: Direct Satellite to Handset Market Opportunity
✔ The role of LEO satellites in achieving ubiquitous cellular connectivity
✔ The challenges in integrating LEO satellite integration with terrestrial cellular networks: standards, spectrum, use cases
✔ Addressing the varying regional market requirements for connectivity: bridging the urban-rural divide and connecting hard-to-reach areas
Moderator: Frank Rayal, Partner, Xona Partners
Panelists
Tyghe Speidel, CTO and Co-founder, Lynk
Tyghe Speidel is the Co-founder and CTO at Lynk. Tyghe is the inventor of satellite direct to phone technology, which is at the center of the company's core IP. Prior to Lynk, Tyghe was the Principal Spacecraft Systems Engineer at NexGen Space, where he was responsible for system design and technology application on NexGen Space technical projects. Tyghe also worked as a Management Consultant for Accenture developing supply chain analytics and simulation capabilities for the DoD. While at Accenture, Tyghe founded and was the global lead for Accenture's commercial space community of practice, which he created to develop a portfolio of projects and clients for the commercial space sector. Tyghe gained experience in orbital mechanics, satellite navigation and control, and spacecraft systems design as a spacecraft engineer at NASA's Jet Propulsion Laboratory, working on terrestrial satellites and a Mars rover. He holds a BS and M. Eng in Mechanical & Aerospace Engineering from Cornell University.
Maria Kalama, Business Development Director, Lacuna Space
Maria leads Business Development for Lacuna Space. She works with large customers and our partners, promoting our services and supporting business growth into new markets. She has worked in keyspace sector positions for the UK government, satellite industry, and consultant. She holds a Ph.D. in satellite networking and is an active supporter of women in tech.
Mina Mitry, CEO, Kepler Communications
Mina is one of Kepler's co-founders and the company's CEO. He holds a master's degree in aerospace engineering from the University of Toronto and has experience conceiving and scaling disruptive companies. In 2015 he co-founded Kepler Communications with the ultimate mission of bringing internet connectivity to space. Under his leadership, Kepler was named one of the most innovative companies globally by Fast Company.
Stephane Anjuere, 5G Venture Lead, Thales Alenia Space
Stéphane Anjuère is today the 5G Venture Lead in Thales Alenia Space in charge of the 5G project for the Telecom Business Line. He has a 25+ years' experience in the Telecom industry spent in network vendors industry (Alcatel-Lucent and Nokia) where he held various technical and business positions of Product Management, or Business Line lead in the development of network solutions for the successive generations of cellular telecom network (2G, 3G, 4G, and 5G).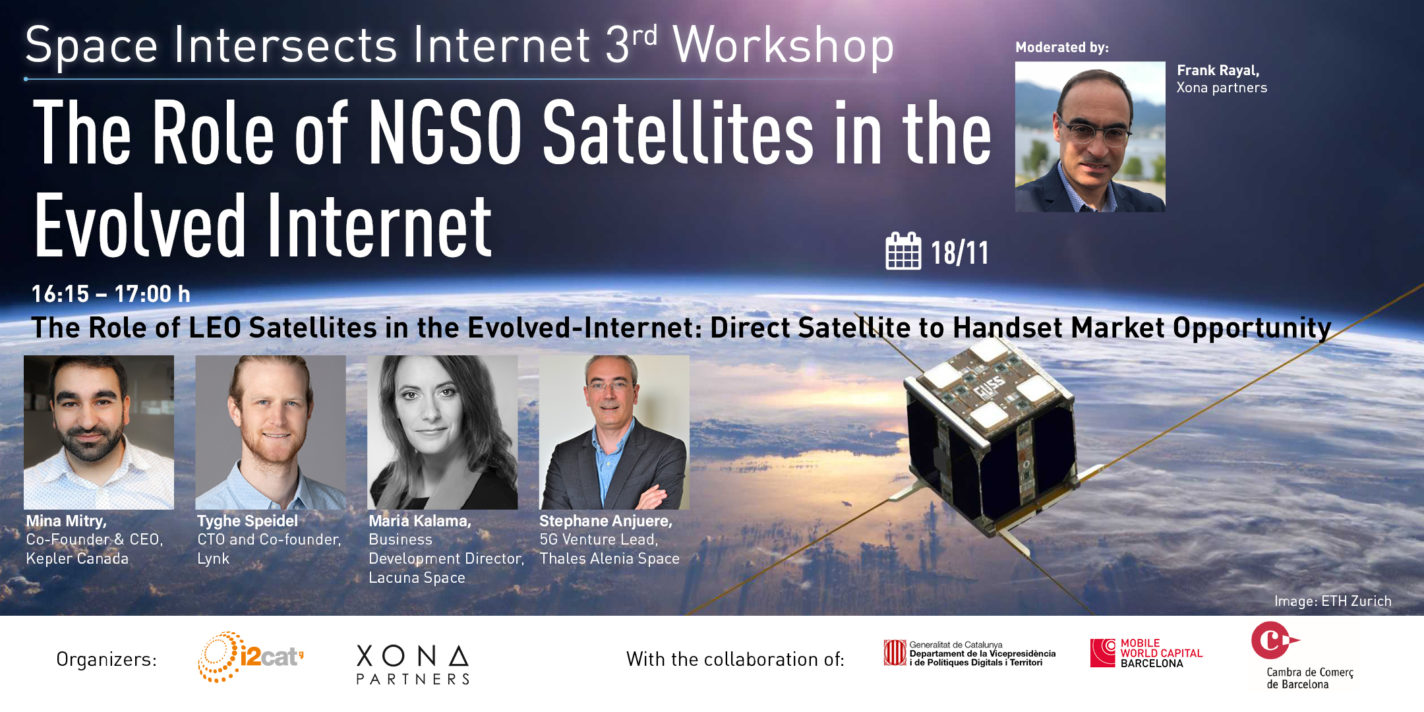 17:00 – 17:45 – Panel 2: How can LEO satellite constellations achieve a positive business case
✔ What are the critical impediments facing LEO satellite constellations and how to mitigate them
✔ What is the impact of new technology and business model innovations on the LEO satellite business case
✔ How to achieve lower user terminal costs and generate revenue quickly
✔ What is the impact of ground stations and regulatory requirements on the LEO satellite market
Moderator: Ms. Mònica Roca, President of the Barcelona Chamber of Commerce
Panelists
Jordi Barrera Ars, VP Technology, Open Cosmos
Jordi is the VP of Technology for Open Cosmos, with 10 years' experience in the smallsat industry. Proven knowledge and hands-on experience in mechanical, structural, space systems, AIT, propulsion, thermal disciplines, quality assurance, as well as programmatic and management of a team and resources. Jordi has actively participated in the delivery from concept to the orbit of several satellites in earth observation, tech demonstrators, and communications field. He has seen the growth of the tech team from 0 to the current state keeping Open Cosmos at the forefront of technical innovation.
Jaume Sanpera, CEO, Sateliot
Jaume Sanpera is Co-Founder, CEO, and President of Board of Directors at Sateliot, the first telecommunications operator that will provide global IoT connectivity under 5G protocol. Sateliot first nanosatellite launch took place on 22nd March 2021 from Baikonur, Kazakhstan. Experienced CEO with a large professional background in the Telecommunications Industry, he is a classic in technological entrepreneurship in Spain. Its consolidation as an entrepreneur and CEO expert in the Telecommunications Industry makes him a very present figure in the media, forums, and other information and broadcasting platforms.
Daniel Marco, Director General of Innovation and Digital Economy, Government of Catalonia
Daniel is Director of the SmartCatalonia strategy of the government of Catalonia, the program designed to turn Catalonia into one of the world's leading smart countries. In June 2019, he was appointed General Director for Innovation and Digital Economy. In 2007, he joined the government of Catalonia as Head of Business Digitalization and ICT industry promotion of the Directorate-General for the Information Society; in 2012, he was appointed Director of the Digital Agenda for Catalonia 2020. He also gives lectures in different postgraduate and master's degrees offered by the UPC and the Universitat de Barcelona; in addition, he gives speeches in national and international congresses and debates related to digital transformation, and he is a mentor in technology entrepreneurship programs.
Thomas S. Jensen, Senior Vice President, Satellite Communication of GateHouse SatCom
Thomas is the Director of Satcom and Head of the Satcom department. From October 2014, he has been Sales Director at The Satellite Communication department of GateHouse, responsible for commercial activities. Gatehouse Telecom A/S develops software, developing and selling satellite communication, tracking, and surveillance software. Gatehouse also offers defense consultancy work. Gatehouse provides its products and services to the communication systems industry and government.
Paul Febvre, Chief Technology Officer, Satellite Applications Catapult
Paul is Chief Technology Officer at the Satellite Applications Catapult, responsible for establishing a future vision for the sector and directing the technology strategy for the Catapult. Paul leads a small team of solutions architects and technologists who work across the Catapult to provide industry support in creating and realizing technologically innovative solutions to real-world challenges.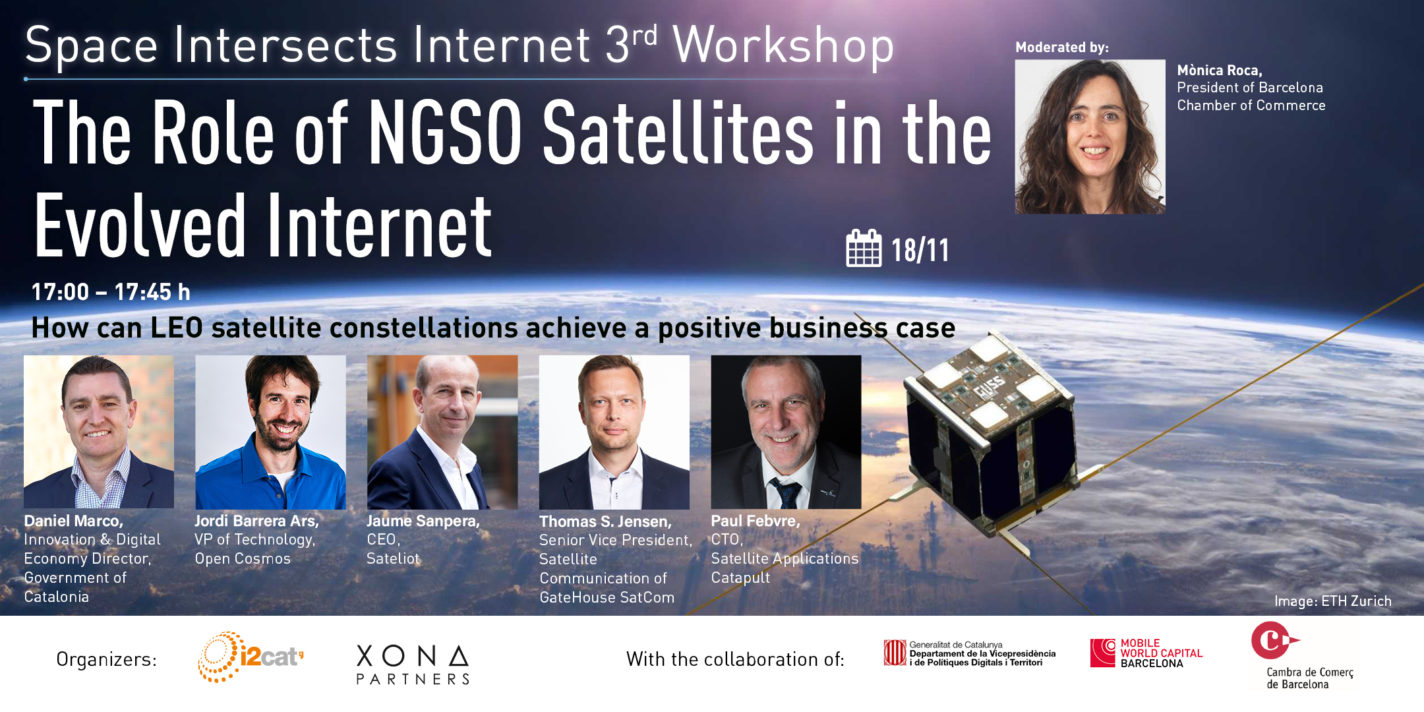 17:45 – 18:00 – Closing notes
Follow this link to enroll.