10/11/2023
The research centre exhibited two V2X use cases for communication between vehicles and urban infrastructure at the international congress
The i2CAT Foundation returned for another edition of the Smart City Expo World Congress (SCEWC), which took place between November 7th and 9th at the Fira de Barcelona Gran Via. In the year of its 20th anniversary, the centre explored the possibilities of communications between vehicles and urban infrastructure (V2X) to walk towards more connected, coordinated and safe mobility.
i2CAT was part of the Generalitat de Catalunya Pavillion, where the centre deployed its expertise in vehicular communications technologies, AI, artificial vision, intelligent traffic analysis or data spaces.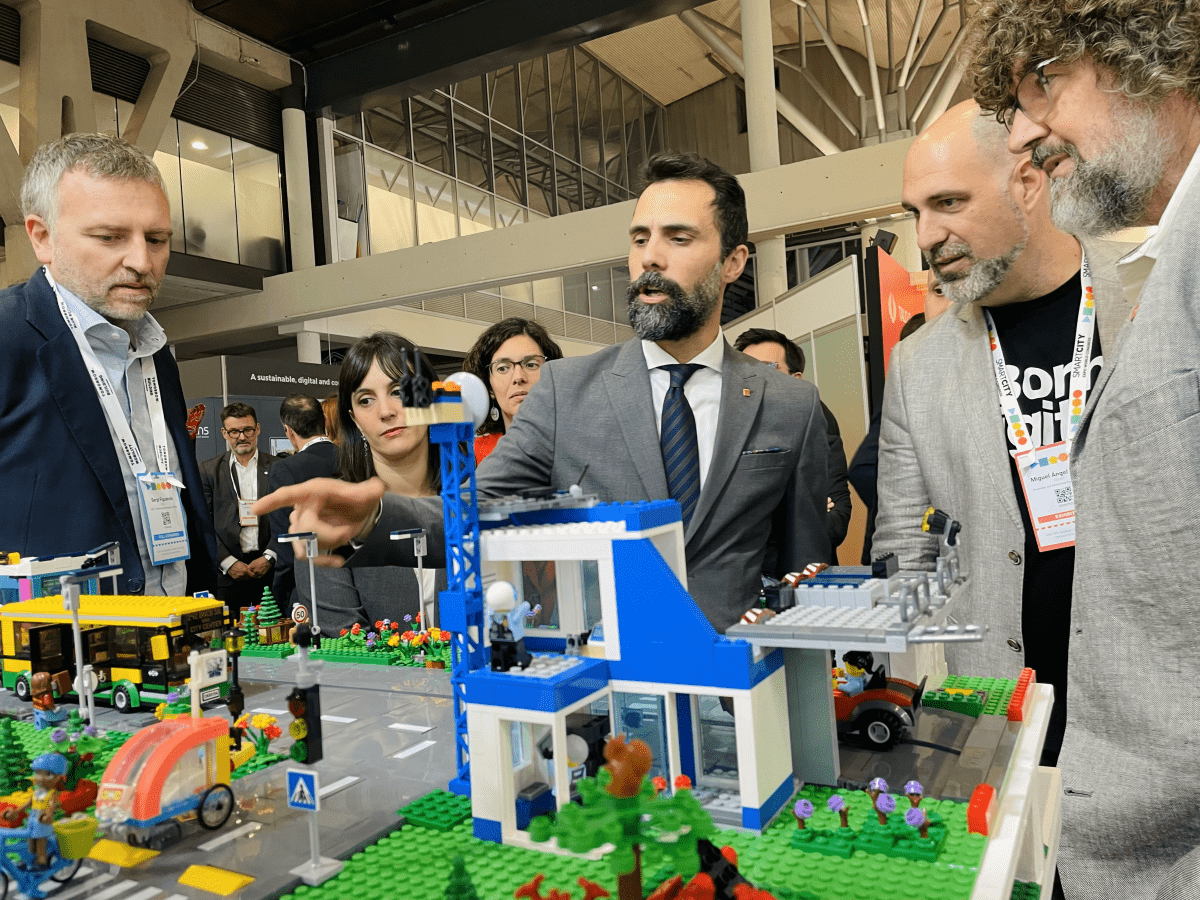 The centre's demonstration of V2X for safer and more comfortable mobility was presented to Mr Roger Torrent, Minister of Business and Labour for the Government of Catalonia; Ms Gina Tost, Secretary of Digital Policies for the Government of Catalonia, and Ms Liliana Arroyo, Director General of Digital Society for the Government of Catalonia.
Vehicular communications to make the new urban era a reality
At SCEWC 2023, i2CAT presented a live demonstration of two V2X technology use cases. A scale model made with toy blocks represented an urban area with several elements of connected infrastructure related to vehicles through highly efficient and secure radio communications.
To overcome the coexistence of technologies in cities and ensure smooth, delay-free and reliable communication, i2CAT works on use cases that technically and economically facilitate communication between infrastructure and vehicles, promoting the safety and comfort of drivers, pedestrians, cyclists and all users of urban roads.
The demonstration showcased how, thanks to V2X communications and protocols, physical elements such as parking barriers or mobile bollards can directly dialogue with vehicles, reducing service friction and eliminating intermediate steps such as paying at a machine or through a mobile application. Likewise, it exemplified the reduction of accidents thanks to the dialogue between elements such as streetlights equipped with cameras and vehicles. Knowing the latter's intentions (direction, position, speed), the cameras can detect vulnerable people and warn vehicles of their proximity to avoid braking, collisions and other accidents.
Private companies can also take advantage of i2CAT's cutting-edge approach to research and innovation by collaborating with the centre on various projects.
One of the mobility projects related to the demonstration presented at SCEWC 2023 is SAVE-V2X, which includes Vulnerable Road Users (VRU) as an additional data source in V2X communications. The project is developed in cooperation with the Spanish company ACISA. Its purpose is to precisely locate the VRUs, notify them or the other vehicles of dangerous situations and, ultimately, avoid accidents.
Technological challenges for cities and territories of the future
The i2CAT team made much of the 3-day congress by participating in many activities.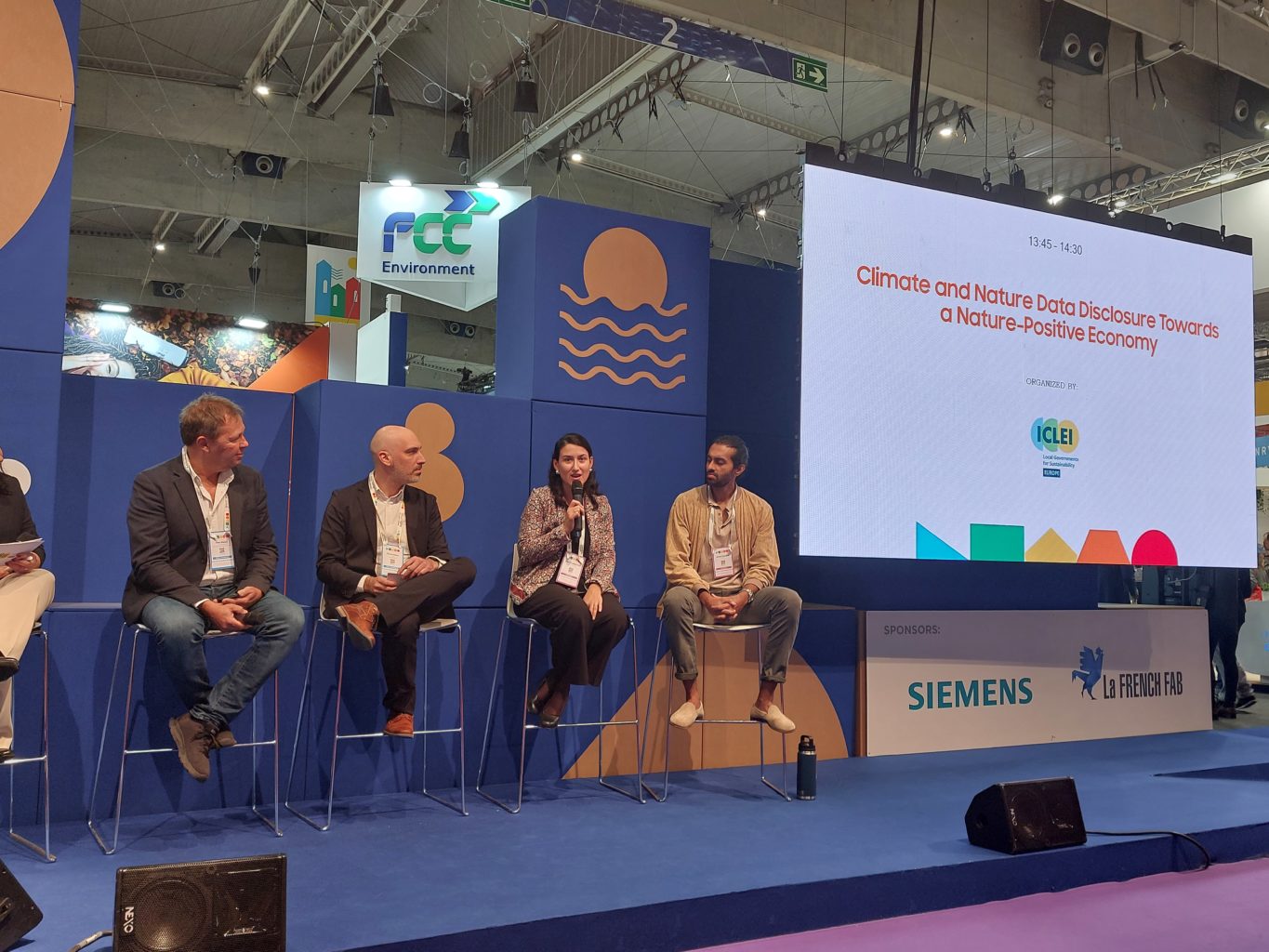 The projects to bring technology and innovation to all corners of the Catalan territory were represented by Marta Martorell, director of the Digital Society Technologies area, and Jara Forcadell, Program Manager for Territorial Innovation, who explained the Col·laboratori Catalunya project and how i2CAT helps small and medium cities and towns have access to data and connectivity to deploy strategies that protect and promote nature.
Jordi Marias and Adrian Pino, researchers of the Mobile Wireless Internet area, presented "Interoperability between Cellular and V2X Networks (802.11p / LTE-PC5) under a Cloud Native Edge Scenario" at the AGORA stand of Ajuntament de Barcelona. This technology is being developed within the European research project Pledger Project, H2020 Caramel Project and CODECO Project.
Daniel Ulied and Estela Carmona, researchers in the Software Networks area, offered the presentation "Enabling Safe Urban Mobility: Vehicular Digital Twin and a Novel Edge-Cloud Orchestration Framework", where the ONOFRE-3 project was presented. The project uses the CODECO Project framework to create and maintain a Vehicular DigitalTwin to improve Vulnerable Road Users' safety.