16/06/2021
i2CAT

will be at MWC2021 with various demos related to the future of communications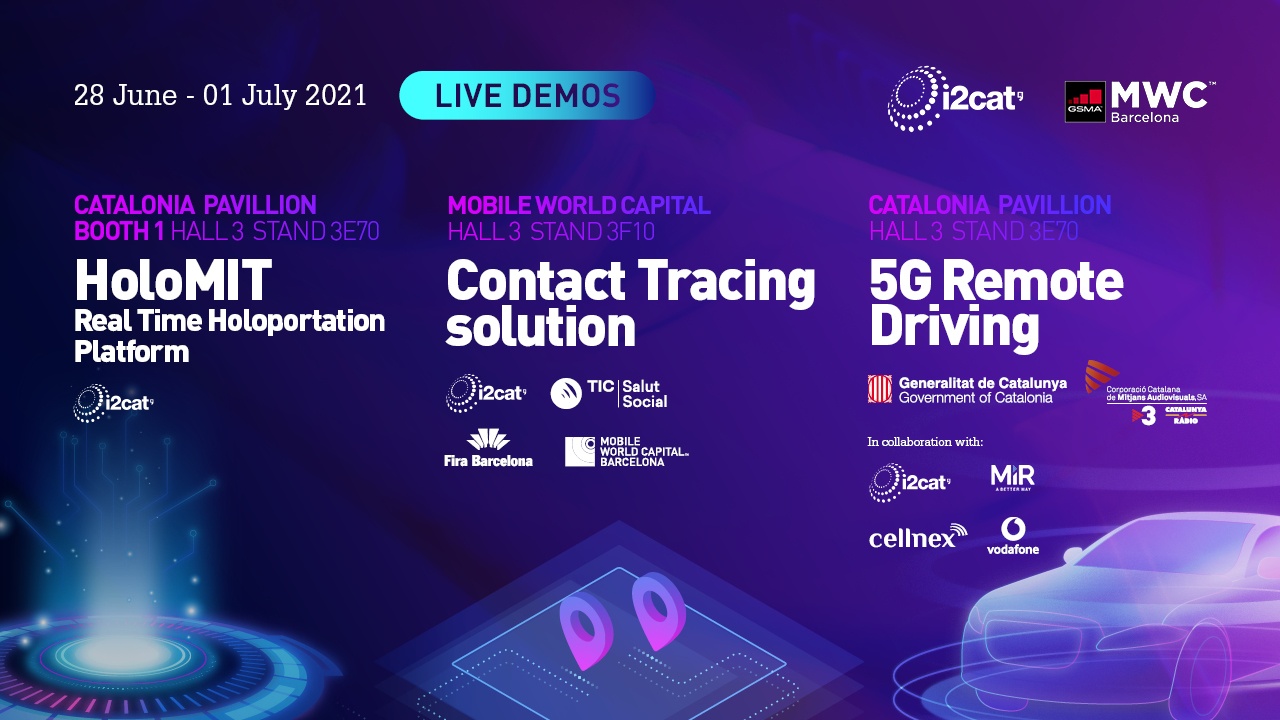 About HoloMIT
i2CAT proposes to the most innovative companies to rethink digital products and services based on the capture, transmission and representation of volumetric video using Point Cloud. Visitors to our stand will be able to get to know HoloMIT and experience a real holoconference demonstration with a person located in our Crea & Play Laboratory in Vilanova y la Geltrú, and a real-time overview of the architecture and performance indicators.
In HoloMIT, i2CAT works with Point Clouds rather than Mesh as a presentation format, thus unleashing greater detail potential from both capturing and viewing real objects. This format presents bigger management complexity in terms of computation and data volume while opening new horizons for innovation. For the demonstration of this year's edition, we have addressed the challenge of the 3D holo conference. This has additional requirements in terms of bandwidth and latency. By combining various components for capture, compression, multi-conferencing, and 3D rendering, i2CAT manages to reduce the computing, data load, bandwidth, and cost needs of an end-to-end solution.
The immersive technology sector is growing rapidly and provides innovative opportunities in fields such as entertainment, audiovisual production, and Industry 4.0.
About Contact Tracing
Contact Tracing Solution provides an indoor real-time location solution with cm-level accuracy allowing to monitor the people's safety distances at trade fairs. The solution has been designed and developed by i2CAT partnering with La Fira de Barcelona, TIC Salut i MWCapital.
Nowadays, the location of people, equipment, and objects is critical for the efficient use of resources and management of onsite events & fairs. Until today, indoor location has been based on technologies such as Wi-Fi or Bluetooth, which provide insufficient precision. Contact Tracing Solution is based on Ultra-Wide Band (UWB) technology allowing data to be transmitted at high speed over short distances, with a precision of less than 30 cm and with low energy consumption.
People wear a badge with UWB BLE technology and the antennas installed in the premises can obtain their position and periodically report it to a remote platform. Thanks to the information collected, this platform can analyze the distance among people, and in case that direct contact is established or the minimum allowed distance is reduced, the system alerts on the need to recover the security separation.
The solution could also have an application in the traceability of people who have had contact with an assistant in case it became a positive case of Covid-19. With this information, it would be possible to derive, through sampling and processing data in real-time, the contacts that a person has established and what distance they have maintained with these contacts.
The Remote Driving demo at the Digital Catalonia booth '5G is the new mobility'
The Government of Catalonia will offer a live demo of connected and remote driving using 5G to show how this technology can improve future mobility. Due to low latency and bandwidth, vehicles can communicate with the infrastructures, with other vehicles, and with mobilities efficiency. The new mobility pilot that this stand will hold shows how 5G can allow teleassistance of a driver and remote and real-time driving when facing a risky situation. Besides that, it incorporates a demonstration of real-time sending of audiovisual information content to the vehicle and infrastructure thanks to that connectivity.
The pilot is a joint project among the Ministry of the Vice-presidency, Digital Policies and Territory, CCMA, i2CAT and Robots MiR, framed in the 5G Strategy of Catalonia and the 5GMed Corridor. The demo is possible thanks to 5G Vodafone's connectivity and Cellnex's special collaboration.